Now that we've earned our flowers by enduring a month of showers, many roll up their sleeves to start their gardens or snatch fresh bouquets for their loved ones. But did you know that those very blooms could also provide powerful nutrients?
Check out how these 10 flowers could not only star in your next bouquet but also in your next meal.
Sunflower
Native to North America, these flowers are primarily used for their seeds. Yet the petals of this bright flower contain a vast array of minerals – especially calcium and phosphorus. Sunflowers also contain high levels of iron – which make it an excellent support for those who are anemic. It also contains vitamin E and muscle-building amino acids valine, leucine, and isoleucine. This also makes it a great supplement for athletes. Donning a nutty and bittersweet taste, consider pairing these petals with sweet and savory foods.
Recipe: Sunflower Petal Pesto
Chive Flower
You may have used the stems of chives perhaps as a garnish for potatoes, skillets, and more savory goodies. Its pale, purple flower is a great source of linoleic and oleic unsaturated fatty acids, which can help regulate blood pressure and lower the risk of stroke and heart disease. Native to Europe and Asia, this flower has an onion-like flavor. Consider pan-frying the flower, or adding them to your salads and soups as a garnish.
Recipe: Pan-fried Chive Flowers
Dandelion
This "weed" may be more wanted for our tummies than our front yard. In fact, these flowers and their stems contain beta-carotene, a precursor to vitamin A (which supports skin, immune, and eye health), vitamin K (important for bone and heart health), antioxidants, fiber, and calcium. Since it's a natural diuretic, dandelion supports detoxification pathways through the liver especially. It can also support people with diabetes due to its ability to help balance blood sugar. One study shows the flower can help prevent urinary tract infections due to its presence of natural antibacterial and antiviral properties.
When dandelions are young and flowered, their flavor can be honey-like. However, older, more wilted ones can be more bitter. The best way to enjoy these is through tea or as a garnish on salads.
Recipe: Super Spring Salad with Sesame Chive Dressing
Hibiscus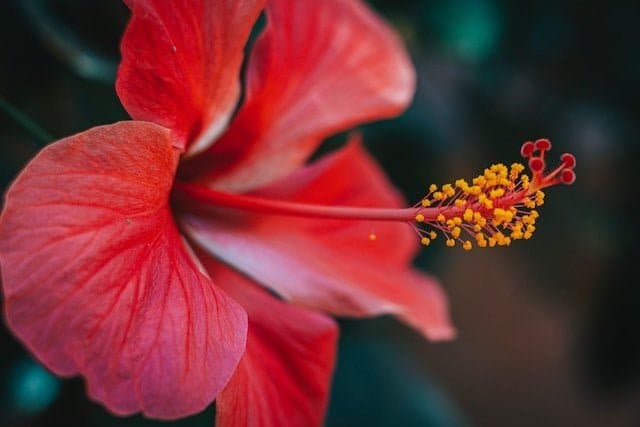 These vibrant, red flowers are the star in many teas due to their hue. And that hue indicates a high level of anthocyanins (a type of antioxidant) – which bolster our immune system and help our bodies to even fight against cancer-causing free radical cells. One study demonstrated a correlation between hibiscus flower extract and decreasing neuroinflammation, which is associated with many diseases such as Alzheimer's. Polysaccharides in the flower can also help regulate cholesterol and blood pressure levels. Its mild cranberry-citrus flavor makes it a great compliment for jams, jellies, and sauces – or can be a nice surprise for classic dishes.
Recipe: Hibiscus Quesadillas
Lavender
This sweet fragrance is all over beauty products – and is even making an appearance in ice cream, baked goods, and lemonade. Lavender is known to calm the nervous system, which can positively affect those who suffer from anxiety and depression. It can even calm colic symptoms in infants. One study found it helps reduce pain and inflammation associated with headaches and migraines. Some women who smelled lavender for 30 minutes a day throughout the first three days of their menstrual cycle reported experiencing less pain over the span of two months.
Before using antiseptics, many doctors used lavender to clean hospital wounds due to its antiviral and antibacterial properties.
Though the perfume is sweet and floral, the taste can be bitter if too concentrated or steeped for too long.
Recipe: Pink Lemonade Lavender Thyme Sorbet
Banana Flower
Bananas can seem quite commonplace these days, but their flowers are considered to be more of a rare delicacy. Nutritionally, they provide a great balance of soluble and insoluble fibers. Insoluble fibers can act as a prebiotic for gut health and help bulk stools, while soluble fibers can help with digestion and softening stools. Like many other flowers, it also contains a high level of antioxidants to encourage a healthy immune system. However, what's unique about this flower is its high amount of protein for its weight, including all essential amino acids. Like other flowers, it also can lower total cholesterol and blood sugar levels. It also contains the minerals potassium, calcium, magnesium, iron, zinc, and copper – each work synergistically to support bone and blood health, as well as many other body systems.
To cook, peel the outer layers to reveal the core, or heart. Since this flower is mainly used in Asian cuisine and has a neutral flavor, it's best in curries, soups, salads, and on cutlets.
Recipe: Indonesian Banana Flower Curry
Rose
This classic flower does not have to be kept only for gazing. Due to their red hue – like hibiscus – roses also contain high levels of antioxidants and can ease menstrual cramping due to their anti-inflammatory effects. The rose is also a great source of vitamins C, A, E, iron, and calcium. It can also increase bile production to aid digestion and nutrient absorption.
Cooking flowers can change nutritional factors. According to a 2017 study comparing nutritional data of dahlia, rose and marigolds decrease in the level of proteins and lipids after being cooked or placed in an infusion. To conserve nutrients within roses, try them raw on salads or in juices.
Recipe: Raw Rose Buckwheat Porridge
Centaurea
Also known as "bachelor buttons" or cornflowers, these vibrant blue flowers are rich in carbohydrates, providing natural fuel for the body. It also contains high levels of polyphenols (plant nutrients) and antioxidants. The free amino acids in these flowers aid in breaking down food, growing and repairing body tissue, skin, and muscle health, and balancing hormones. Some consume it for chest congestion.
Known to be both sweet and spicy, this flower is best used fresh or in teas.
Recipe: Cornflower Lemonade
Chamomile
Another calming flower, chamomile is often an accompaniment to herbal teas. Due to the presence of antioxidants, it can also help reduce inflammation. Its calming effects are similar to lavender, which can promote relaxation and ease menstrual pain. Some also use it for congestion relief. When not consumed, it is a great additive for lotion for its soothing effects on the skin.
Its apple-like flavor makes it not only great for teas but also for baked goods.
Recipes: Chamomile Muffins
Chrysanthemum
These mums can be a vast array of colors, but one of the most common is purple, also indicating the presence of anthocyanins. Commonly used to treat headaches, bone disorders, and even insomnia. This flower is rich in potassium, which can help lower blood pressure, and reduce the risk of arthritis, digestive disorders, and organ dysfunction. Some use it as a natural remedy for lice. Due to its ability to promote liver detoxification, some use it as a hangover remedy.
Donning a more herby taste, chrysanthemums are best in a savory setting with a touch of added natural sweetness.
Recipe: Chrysanthemum Greens and Tofu Salad
How to Select Your Flower
So you can have your bouquet and eat it too? Well, not exactly. As with any produce, it's important to select flowers that are certified organically grown in order to avoid harmful chemicals and pesticides. Purchasing flowers in the grocery store produce department will ensure that these flowers are grown to eating standards. Even when plucking them straight from your organically grown garden, make sure to always wash your flowers thoroughly before cooking or consuming them. Shelf life for flowers is typically 2-5 days after harvest if kept fresh, and longer when dried.
For the majority of flowers, it's best to stick to consuming the petals only. Remove the stamen of the flower – since that collects the majority of pollen – in order to steer clear of allergy triggers. Some other parts of the flower may be either unpalatable or unsafe to eat.
If you have any allergies or are taking any prescription medications, consult your doctor before consuming flowers or any other homeopathic herbs. Plants tend to have multiple medicinal effects, which can sometimes decrease potency or react negatively with pharmaceutical drugs.
This May, consider taking your love for flowers – and your body – to the next level by putting those petals into action.
---
About the author: Lisa (Driscoll) Lopes is a certified Nutrition Therapist Master through NTI's Nutrition Therapist Master Program. Having studied journalism and vocal performance in undergrad, she enjoys using her voice to share the benefits of living a holistic, integrated lifestyle in writing. You can find more of her writing in the Baltimore Sun, Classical Singer Magazine, Capital News Service, and FOCUS blog.
Images:
Purple Petal Flowers Focus Photograph by Pixabay from Pexels
Yellow Sunflowers by Pixabay from Pexels
Red Hibiscus in Bloom by Talha Riaz from Pexels
Garden Plant with Pink and Purple Flowers by Julia Filirovska from Pexels
A Woman in White Shirt Sitting on the Field while Holding a Basket with Lavender Flowers by Anastasia Shuraeva from Pexels