Join us for a 4-part series on preparing living foods: Fermented Vegetables, Sprouted Seeds, Cultured Dairy, and Kombucha
Come learn the time honored skills for four underutilized food preparation techniques that bring the freshness, nutrient density, and flavor of raw and live foods to your diet.
Sure, you can buy them in the store, but why not learn how to make them yourself to save money and increase your confidence in the kitchen.
These foods bring unique nutritional benefits that help promote vitality and resiliency in your wellness. And they are not difficult to make on your own.
In each class, you will receive instruction for preparation and get hands on experience with the technique, plus you will take home your own creation from the class.  All recipes and handouts will also be provided.
Fermented Vegetables – Saturday, March 26th, 2022 1-3 pm

Fermented vegetables have a unique tang that tastes great on its own, or added to salads and other dishes.  In this class, you will learn the importance and nutritional value of incorporating fermented foods into your daily food routine. You will get hands on experience making sauerkraut and have a started product to take and ferment in your own kitchen.
Taught by Dianne Koehler, NTI Director
Sprouted Seeds – Saturday, April 9th, 2022 1-3 pm

Sprouted seeds make great additions to salads, wraps, and other dishes. In this class, you will learn the easy steps entailed in sprouting and come to understand the nutritional benefits of including sprouted seeds in your meals.  You will go home with a jar of seeds ready to sprout and flourish in your own home.
Taught by Amber Frazier, NFC Chef Instructor
Cultured Dairy – Saturday, April 23rd, 2022 1-3 pm
Culturing dairy is an age-old method of preserving milk.  In this class, you will learn about cultured dairy foods, including the nutritional benefits and process of making them.  You will get hands on experience making yogurt and take home your ready-to-ferment final product. Note: we will be using cow's milk for the yogurt making in this class.
Taught by Dianne Koehler, NTI Director
Kombucha – Saturday, May 7th, 2022 1-3 pm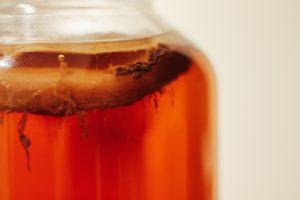 Kombucha is a traditional fermented tea, teeming with beneficial probiotic bacteria.  You might be surprised how easy and cost effective it is to make on your own.  After this class, you will understand the process and go home with a bottle to brew in your own kitchen.
Taught by Chris Koehler, NFC Manager
All four classes are in-person, at Nourish House, Home of Nutrition Therapy Institute— 5613 Olde Wadsworth Blvd., Arvada, CO 80002
The registration fee is $60 for each class.
The registration deadline for each class is the day before, on Friday at noon MT.
Registration is now closed
Did you miss this event? No worries!  You have another chance to learn uncommon kitchen skills!
Refund Policy:
If you are buying the package of 4 classes, no refunds will be issued after March 18th at 5pm (8 days before the first class).  No partial refunds will be issued – a refund on the package results in cancellation of all four classes.
If you purchase each class individually, the cancellation deadline is 8 days prior to the class date (the Friday of the previous week).  All cancellations must be made by Friday at 5pm, eight days prior to the class. No refunds will be issued after that day.
A full refund minus a $15 processing fee will be given to participants who cancel their registration up to 8 days before the event.
_________________________________________________________________________________________________________________
Want to learn even more?  Join us for an informational webinar to learn about how the Nutrition Therapist Master Certification program can change your perspective about health and wellness.
Images:
Photo by Brooke Lark on Unsplash
Image by jules is licensed under CC BY 2.0
Photo by Devi Puspita Amartha Yahya on Unsplash
Photo by Tim-Oliver Metz on Unsplash
Photo by Autumn Hassett on Unsplash