Every bite of this Vegan and Paleo Protein Rich Spaghetti Squash Noodle Bowl with Lime Peanut Sauce is full of zing and crunch! This recipe is a satisfying lower-carb, vegan, and paleo pasta option that's packed with vegetables and flavor. The spaghetti squash can be roasted in advance to make the prep quick and easy – a perfect weeknight meal!
Why we love it
This Spaghetti Squash Noodle Bowl with Lime Peanut Sauce is endlessly adaptable! You can make the sauce and spaghetti squash base and prepare a few protein options separately. If you're cooking this for your family or a gathering, everyone can top proteins as they please, depending on dietary restrictions – chickpeas if vegan, eggs as a vegetarian option, shrimp for the pescatarians, chicken for the paleo crowd… The options are endless!
You can even try using a new protein source each time you make this recipe. Here are some nutrition therapist-approved ideas to get you started:
Vegan Protein Sources
Chickpeas – also called garbanzo beans, their nutty taste and grainy texture pairs well with many cuisines. It's important to note that sulfur-rich amino acids (methionine and cystine) are often low in legumes.
Tofu, tempeh or edamame – all derived from the soybean, which is considered a complete protein source. Tofu and tempeh are particularly delicious when marinated before grilling, sauteing or baking.
Hemp hearts – a highly digestible and protein-rich food for those on a vegetable-based diet (tip: add about ½ cup of hemp hearts to the dressing and adjust consistency as needed, e.g. try reducing nut butter and olive oil and adding some water instead).
Paleo Protein Sources
Eggs – avoid overcooking eggs, as the longer and hotter you cook your eggs, the more nutrients you may lose. Add scrambled eggs to this Spaghetti Squash Noodle Bowl to make it a faux pad thai!
Shrimp – a great source of not only protein, but also selenium, iodine, and the antioxidant astaxanthin. Be sure to purchase wild-caught shrimp or shrimp from responsibly managed fisheries, as conventional farm-raised shrimp may contain antibiotics and their farming can destroy local environments.
Chicken – the peanut butter sauce pairs deliciously with chicken. Try grilling, baking or stir-frying your chicken.
As a reminder: not all protein sources are equal. If you are plant-based, make sure you are eating a sufficient amount of protein that comes from a variety of sources. Studying nutrition therapy through the Nutrition Therapist Master program at NTI provides an evidence-based nutrition education to help practitioners understand bioindividual needs. Nutrition Therapist Masters are trained to recommend foods that support optimal health! 
Spaghetti Squash Noodle Bowl with Lime Peanut Sauce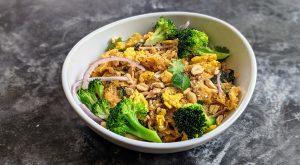 Ingredients
Lime Peanut Sauce
½ inch fresh ginger, peeled and chopped
2 cloves garlic, chopped
1-2 tsp hot sauce (e.g. sriracha), extra for topping
3 tbsp peanut butter (can also substitute almond, cashew, sunflower butter or tahini to make the sauce paleo)
1 lime, zested
1 lime, juiced
1 tbsp rice vinegar
2 tsp honey or maple syrup (optional)
2 tbsp coconut aminos, tamari or soy sauce
¼ tsp toasted sesame oil (optional)
½ cup olive oil
Spaghetti Squash Noodle Bowl
1 large spaghetti squash, cut in half lengthwise and seeds scooped out
4 cups thinly sliced kale or chard
4-5 cups broccoli florets, cut into small florets
½ small red onion, thinly sliced
½ cup chopped toasted nuts (e.g. peanuts, cashews, almonds)
3 tbsp sesame seeds, toasted
½ cup chopped cilantro
Prepared protein (see the list above!)
Sea salt and ground black pepper, to taste
Instructions
Prepare spaghetti squash (can be done in advance): preheat the oven to 375°F and line a baking sheet with parchment. Cut the squash in half lengthwise and scoop out the seeds. Place the squash halves, cut side down, onto the sheet. Bake for about 40 minutes, or until the flesh pulls away in easy strands. When cool enough to handle, scrape the spaghetti strands out with a fork into a large bowl or storage container.
Combine all of the sauce ingredients in a blender and blend until fully incorporated. Taste for seasoning and set aside.
Place the sliced kale or chard in the bowl with the hot spaghetti squash and stir to help the greens wilt. If using precooked squash, heat a large pan to reheat the squash and wilt the greens.
Set a medium saucepan with about an inch of water over medium heat. Bring it to a simmer. Place the broccoli florets into a steamer basket and place it into the pot, closing the lid on top. Let the broccoli steam for 3-4 minutes, or until tender. Keep warm.
Pour a big splash of the dressing onto the spaghetti squash and greens, season with salt and pepper and lightly toss everything.
Portion the squash and greens into 4 bowls. Top each bowl with the prepared protein, steamed broccoli, red onions, toasted nuts, sesame seeds, chopped herbs and extra sauce.
Makes 4 servings
Recipe adapted from The First Mess 
Find more winter squash recipes on NTI's website:
Squash Stuffed with Pears and Wild Rice
Roasted Squash and Beets in Tahini Sauce
Want to learn how to create and prepare recipes like this?
Join our Natural Food Chef Program! Picture yourself in your kitchen surrounded by nothing but organic vegetables, whole grains, top-quality meats, eggs and a range of the more unusual things like pâté, kimchi, kefir and bone broth. If you resonate with the idea of creating delicious meals that are not only healthy but downright regenerative, then join us for our 15-week Natural Chef program! Reach out to our Admissions team with any questions about the NFC program: admissions@ntischool.com
Did you make this recipe?
We would love to hear your feedback, see your creations, and share your recipe photo with the NTI community! Tag your photos on Instagram and/or Facebook with #ntieats and #ntischool
_________________________________________________________________________________________________________________
About the author: Daina Rasutis is a graduate of NTI's Nutrition Therapist Master Program. Her background in Environmental Engineering has allowed her to combine the best of science with a love for nutrition, sustainability & delicious food. Follow Daina's cooking creations and lifestyle tips on her website: tabletocrave.com
Images by Daina Rasutis